What is one two three glue?
Perhaps one of the most famous glues you have ever heard is one two three glue or instant glue.
Since household items and objects are always subject to cracks and breaks, among the practical items that may be needed in these situations is glue, and the best for these incidents is one-two-three glue or instant glue.
In foreign languages, this glue is called crazy glue or super glue, and since the most important component of this glue is cyanoacrylate, it is known as cyanoacrylate in the industry.
All these names indicate its high adhesion strength and high adhesion speed.
One-two-three glue is usually accompanied by a greasy spray or accelerator, which is used before using the glue liquid, and it makes one-two-three glue stick to the desired surface faster.
Of course, there is no need to use a spray when using one-two-three glue, and it is recommended in cold and dry conditions, because one-two-three glue dries faster when exposed to air and moisture.
One two three glue has many uses and it is not only for sticking objects and… but it is used to stick anything from metal to plastic.
In this article, we will fully introduce you to one two three glue and its use in various industries and everything you want to know about this strong glue.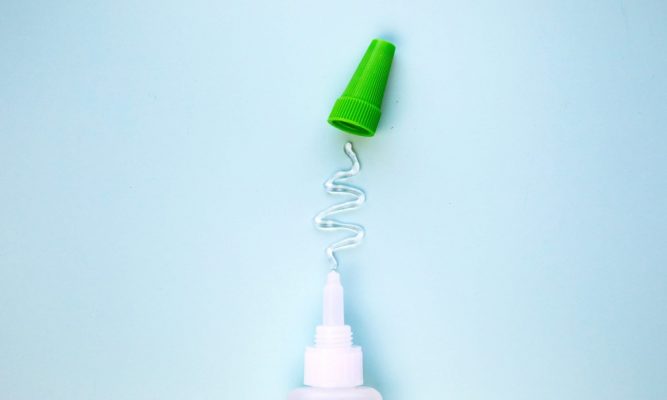 Ingredients of adhesive spray 123 and adhesive liquid 123
The glue spray is made from hexane and amine ingredients. These gases are flammable. That is why it is recommended to stay away from incendiary devices and cigarettes when using the adhesive spray.
And as we said, the main ingredient of glue 123 is a substance called cyanoacrylate. In fact, the term cyanoacrylate adhesive generally describes super fast setting adhesives.
This material is an acrylic moner that is baked and molded into plastic.
Curing is a chemical reaction that causes surfaces to stick together. This process can be accelerated by heat, humidity, radiation or UV rays.
Application of glue one two three
Since One Do Three glue has high speed and strength in adhesion, it is widely used in various industries and has attracted many fans.
Some of the industries in which one-two-three glue is widely used include:
Home industries
Medical industry, especially beauty
Metal Industry
Wood and MDF industries
Concrete industries
construction industry
Plastic industry
If we want to point out the use of 123 glue in various industries, we can mention the following:
Sealing of water tankers
Sealing of concrete materials
Gluing tiles, parquet, ceramics or stone
Sealing metal materials
Connecting electronic circuits
Connecting sheet covers
Steps to use glue one two three
The steps to use this glue are as follows:
We dry the desired surface and if it has dust or rust, we clean it.
Spray glue 123 on the surface and wait a few moments for it to evaporate (spray is not always necessary).
Apply glue 123 on the surface.
We place the surface in the desired place and hold it firmly for a few seconds.
Now the desired surfaces are glued together.
Attention!
The surface on which the glue is to be applied should be clean and dry.
Be careful not to expose it to direct sunlight for the remaining one or two or three hours after using the glue, because there is a possibility of fire or explosion.
What is one two three glue spray?
You may have thought that One Two Three glue spray is the same One Two Three glue but in spray form.
This is not wrong, but there are two types of glue spray, one is the accelerator spray that we mentioned in the previous section, and the second is the glue that is designed as a spray and is sprayed on to glue the surfaces.
1-2-3 glue spray may not be as useful as 1-2-3 glue. 1-2-3 glue spray is also widely used in many industries.
These industries include:
Handicrafts
decoration
Furniture repairs
Repair clothes
School projects
Daily repairs
If we want to point out the application of one two three glue in different industries, we can mention the following:
Sticking wood
metal
Acrylic
foam
the cloth
cardboard
leather
cottonwood
Glass
foil
rubber
And many plastics
The most common use of glue is one two three at home.
Some spray adhesives are not recommended for exposure to high temperatures or humidity, so be sure to check before using it on an outdoor item. Spray glue is a good choice for common use and crafts. It becomes clear and clean and does not turn yellow over time.
Steps and tips for using glue spray one two three
Use this glue in a sufficient space and always use a mask to prevent vapor inhalation.
The surface to be glued must be clean, dry and free of oil, wax, paint or any other residue.
Spray adhesives are temperature sensitive, so use them between 18 and 35 degrees Celsius. Shake the can before use.
Spray the glue. Hold the can of glue in a vertical position and hold the valve towards the surface to be bonded. Apply an even layer of glue on both surfaces.
Keep a distance of 20 to 25 cm while spraying.
Join the pieces together. Wait 2 to 3 minutes. The glue should be sticky. Secure the pieces in place. Apply gentle but firm pressure and hold in place.
Let the glue dry. Note that spray adhesives dry quickly. For full strength, do not use the device for 24 hours.
After use, turn the can upside down and wipe the cap and tip. Clean off any residue or build-up, then wipe thoroughly with a dry cloth and close the cap.
The durability of the glue is one two three
The best thing for the glue to have a long shelf life and not to dry quickly and not to lose its quality is to not expose the glue to moisture and air.
This makes it effective for up to 4 weeks if opened.
So try to clean the glue nozzle after each use and close it tightly so that air does not penetrate into it.
If the product is not opened, it will last for one year.
The right temperature for glue one two three
If you have opened the glue one, two or three, do not put it in a completely cool environment. Because the moisture makes the adhesive dense and dries it quickly.
But if the lid of the product has not been opened, or if you are a seller of these adhesives and you want to increase their shelf life, store them in a completely cool temperature, so that they preserve their properties better.
Need an adhesive with special features?
Persia Production Group
, relying on its production capacity and outstanding engineers, can meet your needs in supplying all kinds of industrial, automotive and construction adhesives.