Click on the image below to see the adhesion test of Persia n800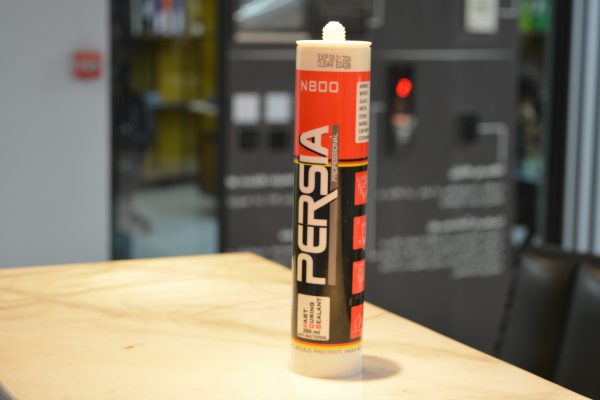 One of the ways to catch the seams and fill the empty spaces between the surfaces is to use sealants. These products have different types, some of which have similar properties like adhesives.
Similar Persian silicone adhesive with strong adhesion is able to glue and seal the empty parts of doors and windows, glass, mirrors, aluminum, tiles for bathrooms and kitchen services, making compact panels, exterior glass facades, polished surfaces, etc.
One of the important features of Persian glue is its relatively high concentration, which has good durability in adhesion, and its dyeability and antibacterial properties are among its other features. Also, this product shows relatively good resistance against ultraviolet waves.
Another feature of Persian glue is its adhesion to common building materials and porous surfaces. Also, its elasticity and resistance to detergents and its transparency are considered among its other characteristics.
Persia N 800 shows the most efficiency at a temperature of +4 degrees to +45 degrees.
Uses of Persian glue
Sticking the mirror to the form and…
Sealing around doors and windows
Doing home sealing
Sealing toilets
Connecting the surfaces to each other and creating the necessary space between the surfaces close to each other
Electrical seals, telephones, sockets, and outlets
Paper and cardboard, wood, metal, plastic, glass, leather and fabric, tile, ceramic and porcelain, packaging, plumbing, electricity, sealant, construction materials.
instructions
1: Clean the desired surface from grease and dust
2: You can separate the desired levels from other levels with a special strip
3: Cut the tip of the cartridge and mount the plastic missile tip on it, then cut the tip to the appropriate angle.
4: Put the cartridge in the injection gun
5: After injection, process uniformly with a special device
| | | | | |
| --- | --- | --- | --- | --- |
| | Time | temperature | Volume | Percentage |
| Running temperature | – | 5-40 °C | – | – |
| Initial capture | 20 min | 25 °C | – | – |
| Complete grip | 58 hr | 20-30 °C | – | – |
| The highest amount of dispersion and width | – | – | 24ml | – |
| elasticity | – | – | – | 2 |
| Maximum shrinkage | – | – | – | > %2 |
| shelf life | 24 month | 0-50 °C | 280 ml | – |